This came very late, busy day and silly network.
Final review week
LAST WEEK:
Weight: 65kg
Body fat percentage: 19%
Body water percentage: 59.9%
THIS WEEK:
Weight: 64.4kg
Body fat percentage: 19%
Body water percentage: 59.9%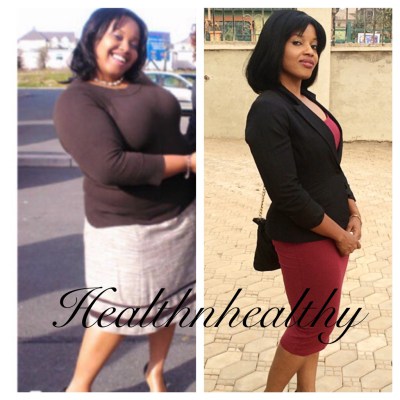 FINAL VERDICT:
The total body makeover series is amazing, I'm going to continue using these as I undergo a 12 weeks personal challenge. Look up at that before picture and lets see what 12 weeks hold in for me (You want to join? look below on how to).  My body fat has reduced, I'm leaner and fits into smaller clothes.
The best part about USN is there's no after taste, I've tried some brands and most of them have chalky after taste. There are different ways of using the DIET FUEL ULTRALEAN, I used it in my smoothies, oatmeal, cereal and even in baking. Easy way to eat in protein without having to chew always.
One thing I believe they can improve on is the packaging, I had to move the diet shake powder into a container for easy use. 
I have shot great videos on facebook, for some reason they ain't uploading on here. Will keep trying to upload it here. To watch videos, go to FACEBOOK PAGE, also like the page to get updates. 
HEALTH & HEALTHY OFFER:
TOTAL BODY MAKEOVER SERIES (1 set)
CLA & RASPBERRY KETONE
DIET FUEL ULTRALEAN SHAKE
PHEDRA CUT
Buy 1 set and get a 1 month flexible meal plan to guide you.

Buy 2 sets and get 2 months flexible meal plan with detox.

Buy 3 sets and get the opportunity of working with me on my 12 weeks personal challenge which includes detox & meal plan, exercise plan (videos) and 30 minutes chat weekends.
A set cost 20,500
LAGOS: No delivery fee, just pick up from my contact in lagos
ABUJA: No delivery fee in town (wuse, lokogoma, garki, area 1 to 11), others (such as gwarinpa, kubwa etc. ) can pick up at area 3 or Sunnyvale Estate.
PH and Other location: N1000 delivery
Whatsapp/Email  ONLY if you're interested in buying -: [email protected] / 08089726031
Disclaimer
You should consult your physician or other health care professional before starting this or any other fitness program to determine if it is right for your needs. This is particularly true if you (or your family) have a history of high blood pressure or heart disease, or if you have ever experienced chest pain when exercising or have experienced chest pain in the past month when not engaged in physical activity, smoke, have high cholesterol, are obese, or have a bone or joint problem that could be made worse by a change in physical activity. Do not start this fitness program if your physician or health care provider advises against it. If you experience faintness, dizziness, pain or shortness of breath at any time while exercising you should stop immediately.
This site offers health, fitness and nutritional information and is designed for educational purposes only. You should not rely on this information as a substitute for, nor does it replace, professional medical advice, diagnosis, or treatment. If you have any concerns or questions about your health, you should always consult with a physician or other health-care professional. Do not disregard, avoid or delay obtaining medical or health related advice from your health-care professional because of something you may have read on this site. The use of any information provided on this site is solely at your own risk.
Developments in medical research may impact the health, fitness and nutritional advice that appears here. No assurance can be given that the advice contained in this site will always include the most recent findings or developments with respect to the particular material.