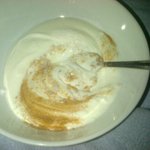 My taste bud is always, I mean always busy trying to taste something different each time. I love the kitchen as well as creating exciting recipes. I'm not a fan of cold food because I have a sensitive teeth, the thought of eating any cold stuff scares me. Well, last week I posted a recipe of 
HEALTHY BANANA ICE CREAM
 I only had it twice and it practically killed my teeth and the pain was just unbearable.
So I was thinking of a way to enjoy something that looks like ice cream without experiencing pain. Yogurts are cold but not as cold as ice cream, normally I like my yogurt at room temperature. I had options of what to do to my plain yogurt:
Adding fresh fruits to natural plain yogurt
Adding a little bit of sweetener and nuts
Or adding some kind of spice to it…etc
The only spice that came to my mind was ….CINNAMON.  I added 1/2 cup of plain yogurt, a teaspoon of sweetener, sprinkle some cinnamon and gave it a stir…………it was off the hook. It has this fresh taste better than ice cream.
TIPS:
yogurts are healthy and good for breakfast or even snack. You will be amazed to what you can do with them…
It can serve as salad dressing
Add fresh fruits or nuts to it and its yum yum
Use it to thicken your soup
As a dip, as cake icing
In pancakes, sandwich, smoothie, Parfaits, wraps, purees …..the list is just endless