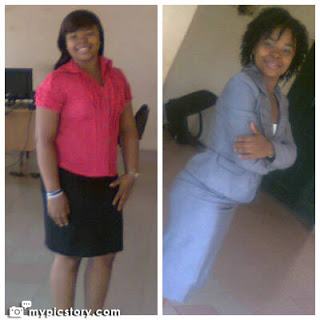 Another weight loss success story from Etal a WLB group member, She has loss 18 kg in 5 months.
1. About myself, family & job:
I am Etal but my friends and family know me as Eruke who has been over weight all her life. I am an only child, an Urhobo by tribe and from Delta state, Nigeria. I speak my mother tongue Urhobo, English fluently (studied English), and a bit of French. I work as an Underwriter in a private insurance firm in Nigeria and presently residing in Enugu.
2. How long and my ideal goal: 
It took me 5 months to get to my ideal weight. My ideal goal was 57 kg as against 75 kg. But, when I got to 57.7 kg I was too skinny. So, am presently fluctuating between 58 – 59 kg which is
ok by me now.
3. My motivation:
I wanted to be able wear what I love to wear not what would size me. I love fitted and hugging clothes but my fatty body denied me that. I was buying what would size me not what I love. It was quite depressing. And all my family members are skinny and tall….! But, I was d only short and fat one. It was not funny at all. And I am very shy… I needed to have confidence in me without someone telling me. Been fat made it worse for me. But, my 2012 birthday picture was the final stroke when I saw my tummy as big as a 7 months pregnant lady.
4. What kept me on track: 
When I began losing weight, I had more energy and felt very beautiful…. It gave me confidence. I felt this joy in me that I cannot explain, but it kept me on even when nobody seemed to notice it.
5. My typical day(exercising & eating):  
I began at first with 1hr cardio workouts in d mornings (aerobics involving dancing, I love to dance) followed by at least 75cl or more of water. But, as time went on I had workout DVDs I use morning or evening for 30 to 45mins daily. My meals daily must have fruit, egg/beans/fish or chicken/ sweet potatoes/occasionally swallows not more than a fist size. I do snack in between meals but it's usually fruits (apples, watermelon, bananas, garden eggs, oranges) or something small like a handful of groundnuts, boiled eggs, etc
6. Whats the biggest difference: 
I am now very confident….. and so so so happy….
7. How do I keep the weight off:
I have learnt to measure my meals with the knowledge I got from a group known as weightless for Africans, my darling weight loss buddy Phit (Natachy) and I Google lots of info on my favourite foods. So, I try not to eat like I used to. Natachy would always tell me "MODERATION" I eat everything I love but moderately. I work out occasionally and I try to b active every chance I get. Although, I over do things occasionally, but, I try to balance it as soon as I can
8.  What other diet have I tried:
I used Edmark products some time ago when I was too fat and my mum got worried, I suggested it and she bought some of the products. But, I could not maintain d weightless. So, I gave up. I didn't have 28,000 thousand naira to spend on supplements either.
9. Advise to others losing weight: 
Make and stand by the decision to lose weight, be ready to make sacrifices until you are able to discipline yourself not to go back to your former ways of eating and believe in yourself, this is very important.
10. Popular slogan: " No more Fat and Fabulous but Fit and Fabulous"
 Congratulations Etal on reaching your goal, please do maintain it and keep living a healthy life