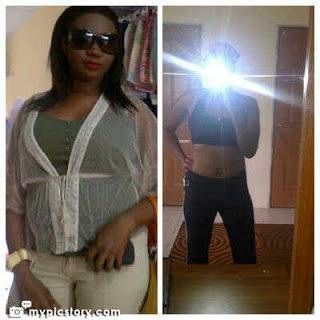 Here is another group member, She has lost the weight after having 2 kids and she looks fabulous. I admire her strength, when she logs in her workout I get this motivation to even go the miles. More reason why i call her RUBBER…lol. Another thing I like about her is that she is a foodie, she loves food and balances it with her lifestyle to achieve her goal……more picture below
1-
Tell us about yourself, job and family:
My name is Amaka. Mum of two. A lawyer and a business woman.
2- How long it take you to achieve your goal? Took me 6 months to get to ideal weight and its still a struggle to maintain it.my ideal goal was to get to 65kg from 74kg. Now I'm 63kg.
3- What motivated you to lose weight?: I just hated my appearance.i wanted to look good in and out of clothes,to feel good and be healthy,for myself and my family.
4- What kept you on track? Amazing support system. I have amazing friends who are also on this weight loss journey and we  all supported each other. my Spouse is big on fitness so he got my back and I also joined this bb group called weight loss buddies and those ladies are amazing.
5-  What is your typical daily workout and eating routine?I try to get in at least 1hr workout 5 days a week at the minimum. I learnt so much about eating right and not necessarily dieting. I love food and have refused to starve, so I equipped myself with as much information I can get and read up loads on the internet.
6- Whats the different you noticed? the biggest difference I've noticed….fitness is hugely underrated. When you are active,you ll be shocked at what you can accomplish.you ll have more energy and will sleep better. Also, I won the battle between my tummy and i. My tummy has always been a huge problem,pun intended. But I have dropped a total of about 8 inches from upper,mid and lower tummy.

7- How have you kept the weight off? Keeping the weight off is just as hard as losing it. Its not easy trying to find a balance. Because you will notice that once you relax a little bit the weight just creeps back in. So its a continuous journey,just that when you are trying to maintain,you are much more relaxed especially if you have gotten used to eaten right and working out.
8-  What other diet have you tried? I've tried d maple syrup/cayenne pepper diet mad popular by beyonce. A friend of mine also gave me green world pills one time,I generally hate pills, its a struggle for me to take pills when I'm ill so I didn't see myself popping pills when I'm not even sick.
9-  What advise will you give to those trying to lose weight? advise to other people trying to lose weight- persistence and discipline does it. Don't be in a hurry. Doing it the healthier way far more outweighs any crash diet.
10- What is your motto? my motto is- Don't throw in the towel,use it to wipe the sweat off your face.
I hope her story inspires you to push yourself hard in achieving your goal.