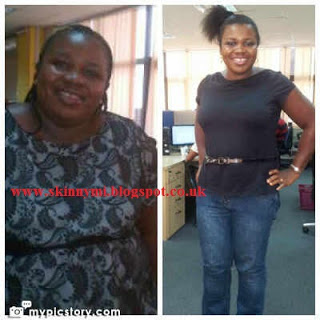 Lovely and inspiring story, she did it and still doing it. She has explained how she is able to get to where she is and still going. Read and get inspired
1.Tell us about yourself, job and family: My name is Ebere, married n blessed with 3 kids, work with a telecoms company
2. How long it take you to achieve your goal? 9 months
3.What motivated you to lose weight? I was moved when my 4 yr old son told me one day Mummy you are too fat see you tummy, is baby inside, we had a good laugh but I worried for a little boy to say this that mean I have to do something, then and there I made up my mind to be fit. I was tired of being called Orobo (fat ), I needed my confidence back,want to feel good ,feel comfortable in my dresses.
4.What kept you on track? The compliment from my hubby, family and friends, also the success story from the forum and WLB, especially that of Nate, the encourage from my instructor Mr T, Uche and the hard lady Jillian Micheal whom I hope to visit soon (laughing)
5.What is your typical daily workout and eating routine?
I exercise for about 30 mins – 1 hr  in the morning, in. the evening about 1- 2 hrs, I love food, but I now eat healthy n clean, low carb, lots of protein, vegetable n fruit , I don't deprive myself of any food, I make unhealthy food healthy and practice portion control.
6.Whats difference have you noticed? I feel very healthy , increased  energy level, I look 10 yrs younger.
7.How have you kept the weight off? This is a lifestyle change and not a diet, I will continue to eat health, clean , exercise n remain focus.
8.What other diet have you tried? Forever living diet, protein diet and fruit diet
9.What advise will you give to those trying to lose weight? The only way is to see weight loss as a lifestyle change n not a diet, practice what you can sustain , how long can you live on fruit or just protein, eat healthy, clean, portion control and exercise that is the way  to go.
10. What is your motto? No pain no gain